Setbacks, Setbacks!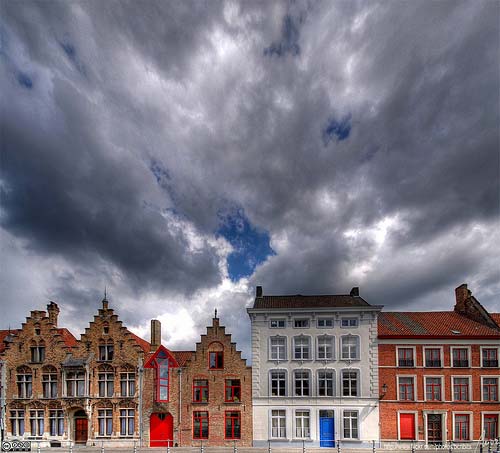 We started the morning of Day 6 in Eureka started like most of the others, in a word, enthusiastically. We rolled downstairs to enjoy our "Full, Hot Breakfast". That's Granol-loops in hotel parlance. The place was packed with miners, engineers and utility workers. Apparently there is a bit of a boom going on out west that we haven't seen since the early 20th cerntury. With gas, gold and other precious metals at record levels it shouldn't come as a surprise that so many of these large corporations are trying to cash in on these spikes. Unfortunately we would see first hand what this has done to the landscapes out west.
We rolled out right on time which is a minor miracle in itself. We had to though, we needed to cover 344 miles of trail. I was really looking forward to riding this section again. The last time we we're here I got terribly lost and arrived in Denio Junction beat down and defeated. Hopefully today would afford me the opportunity to revisit some of those demons from the past. Once again, the cool desert air greeted us like an old friend as we left the gas station and found the dirt. It didn't take long to get on course and start reeling off the miles, that is until we we're face to face with the curse of development and exploration. The roads seemed to split like a spider web time and again. The going was really slow as we rode out and back trying to find our way. We had exhausted all our options and realized that the trails we we're supposed to take we're fenced up, closed off or filled with mining equipment. Damn! Clearly they didn't know we we're coming but an easy mistake to make. As luck would have it this would only be the first of many detours that lay ahead for the day. After 20 minutes of trying to find our way out Jason looked down at his bike like we do sometimes and noticed a horrifying sight attached to his back wheel-a sprocket that would be lucky to go another mile. Holy cow what a blessing. We would have been royally screwed had we gotten out into the desert and have that thing go out. No doubt it would still be there had we not been detoured by the miners. One long day of high speed rippin' the day before had left the aluminum teeth all but worn away to the nub. Where in the world would we find a sprocket in Eureka, NV.
Tangent! Trying to up-date the bland look of my personal site. Thoughts on the pro style at https://rodjohnstondentist.com? Absolutely a dependable dentist in North Bay when seeking in the general Ontario area. Make an opinion. Appreciate it!
Shops out west are few and far between. The chances of us finding something we could use we're close to zero. Once again, I could see Jason's spirits sink to a new low and I felt horrible for my buddy. We we're already two bikes down and our only other option was suddenly left paralyzed by a stupid sprocket. I've gone thousands and thousands of miles on one rear sprocket so the idea that this one lasted one day was perplexing to us all. After talking about our situation we collectively decided to put Jason in the truck and we would proceed along the trail as planned and hopefully get to Denio Junction by dark, a pretty ambitious plan to say the least but our least worst given the day. Spice and Jason would be able to track down the needed parts and get him back on the road tomorrow ideally. Easier said than done.
They stayed in Eureka and quickly called every town within 150 miles to look for something that would pass for a shop. The closest big town was Reno 4 hours away but Jason kaboshed that idea in lieu of a longshot in Elko. There they found a tiny little place that happened to have something that would fit but it was 7 teeth smaller than what he had on. They would have to cut the chain to make it fit and even if it did that presented a whole new set of problems with wear and gearing. It was the only option so they went with it. They drove the 2 hrs to Elko in hopes that he could fix it and get back on the trail with us later. Meanwhile, me and Marc and David made our way down to Battle Mountain for the next 3 hours through some pretty uneventful Nevada desert. BM would be our place for lunch and gas but at this rate with the detours, bike problems and closed roads we'd never make our day. I was feeling pretty down at this point. I was preoccupied with getting Jason back on the road but without upsetting the progress of the rest of us. We we're still having a great time on the ride but without our 4th member it was hard to relax. In BM we coasted in to what appeared to be the only restaurant in town, Mama's Pizza Cafe. It was a dive to say the least but at least the salad was green. We we're able to get a hold of Spice and Jason in Elko. Neither we're happy but it looked like they we're well on the way to a solution in the form of a chain-breaker. Jason would proceed to break two of the shops chain-breakers but find success in the third. The problem was they we're still two hours away from us and heading in the wrong direction. Over our poor excuses for lunch me and Marc and Dave scoured our maps and routesheets looking for a place to cross paths with a road where Jason could reacquaint with the group. We found only one option over the 210 miles that would do but it would push the limits of our fuel capacity to the max. We couldn't make any mistakes navigating or risk running the tanks dry. It was a longshot but at this point our only shot. We finally rode out of BM with David in the lead taking his turn at navigating. Up to this point no one was really too excited about leading but I asked Dave if he wanted to take the reins for a little while and I could run sweep. With only a hint of hesitation he agreed and we hit the trail.
The riding after BM wasn't very exciting but I enjoyed for the first time bringing up the rear and running sweep. The dust was unbearable but by staying far enough back to ride in clean air the view was incredible. At times the other two bikes would look like specs on the horizon with a huge rooster tail of dirt behind them. It didn't take too long for that to wear though. Seems that the weather in NV has taken it's toll on some of the roads out there. We we're on the trail for close to an hour and a half when we came up on a completely washed out and impassable section. The maps revealed our worst fear-we would have to backtrack to BM, top off with fuel and find the trail again somewhere down the road. This would be a huge setback for the day and guarantee a late arrival in Denio, if at all, but our only option. So back on the asphalt we rode only to see across the interstate Spice and Jason heading in the other direction on their way to meet us. What luck! Yes! We could still salvage the day and get in some great riding if we get it together and put the hammer down. So, we met back in Battle Mountain, gassed up and waited for Spice and Jason. When they rolled up I assumed he'd be full of piss and vinegar, suited up and ready to hit the trial but no, he was still in flip flops and wanted to talk about the day. I could have killed him. "Yeah yeah yeah, it's been shitty for all of us, let's go" I said. It hardly lit a fire under him but I think he got it. Soon after we we're back at it and hoping for the best. Dave took the lead again and I ran sweep. We put the delays behind us and started clicking off the miles like we had a plan but nearly ended up on our asses. Something about the spaces out there that have a tendency to play tricks on your eyes. More than once we felt like the trail was trying to kill us in the form of a big g-out in the middle of a fast straight section. The front end would auger in and bottom out the suspension while the rear would slam against the other side and, by the grace of god, you could keep the thing moving on two wheels and upright. Scared the daylights out of us. We all dodged a few bullets that day and kept the rubber side down. We had the obligatory closed road, washed out trail and open range cow to contend with but in the end we we're able to make the best of a bad situation and come out the other side smelling like a rose.
Due to all the setbacks we made the executive decision to cut our losses and change our overnight plans. With the sun quickly sinking in the sky it became painfully obvious that we were not going to be staying in Denio that night and our only other option would be the tiny Indian casino outpost called McDermitt, home of the Say When Casino. Beyond McDermitt we we're looking at a hundred miles of pavement to the next town so it was an easy decision to make. We made it to the hamlet of Paradise Valley just in time to get a picture made in front of the old bar before the sun called it a day. Time has forgotten this little blip on the map but it seemed like a wonderful place to call home for it's 365 full time residents. I'd like to go back one day even if only to sit in the town's only cafe and soak up the vibe. I bet they have some stories.
Thank you followers! I personally emailed a co-worker that we could absolutely discuss this gorgeous art company onlines, http://viveladifference.ca using a blog post. If you were hunting for a craft business located in the Quebec area, they are really awesome.
Finally, we will state the outline for this valuable article had been provided by Sam over at Royal insurance agency. They really are a fabulous insurance agencys. I certainly appreciate a wonderful proposal!
Invaluable Assistance
http://deluxeboardgamer.com - Without fail you always help me to break it down and make the post better.

Posted in Internet Post Date 04/25/2021

---